News
:
Archive/5 August 2009/Halo Gear Guide
From Halopedia, the Halo wiki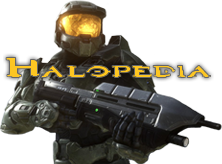 HALOPEDIA NEWS
Halo Gear Guide

Story by mcloganator
August 5th, 2009
Intro
A brief look at some great new Halo gear, and where to get it.
Halo Mega Blocks
On Friday July 31th, Mega Bloks (an alternitive to LEGOS) began an offer for 10,000 HaloWars limited edition UNSC Steel Spartan or (ultra-rare) UNSC Active Camo Spartan miniature figures. To be a part of this exciting event, all you have to do is be 1 of the first 10,000 to enlist into the exclusive Halo Wars military commander unit – The Mega Bloks Command Division – and you will automatically receive either 1 of 9,900 Limited Edition STEEL SPARTANS - a unit with indestructible metal armor, or 1 of 100 Ultra-Rare Limited Edition ACTIVE CAMO SPARTANS - a unit with the ability to blend in with any surrounding to get the jump on Covenant forces. Each unit comes with their own weapon and a 2 by 4 camouflage effect block!

Figures will be given away to fans on a first come first serve basis: 100 randomly inserted, ultra-rare UNSC Active Camo Spartan and 9,900 Limited Edition UNSC Steel Spartan toy figurines. Each 1.75" tall figure will include its own weapon and an exclusive camouflage effect block.
If you missed out on the opportunity to sign up for this, don't worry. Mega blocks offers a large selection of Halo characters and vehicles that can be used to build and recreate epic battle scenes between the UNSC forces and the Covenant with authentic 300+ piece buildable playsets that bring the video game to life and includes such well known vehicles as the UNSC Sparrowhawk, Warthog, Hornet and Covenant Banshee with miniature action figurines of UNSC Spartans, Flame Marines, Covenant Elites and Covenant Grunts. Read more Here
Covenant Energy Sword
Fantasy Blacksmith, a company that specializes in crafting armor and weapons from video games and movies is now offering a beautiful new Energy Sword that retails for $71.18 U.S. Some of its features include:
Twin Stainless Steel Blades with a Titanium plating to give it a rainbow finish electric look
The Rainbow color will vary with the light
Overall Length: 27-1/2"
Width at handle: 10"
Blade Material: Stainless Steel
Handle Material: Custom Molded gray Plastic
Hardwood Plaque included
Product Weight: 6.5lbs
Learn more at WWW.FantasyBlacksmith.com
Sterling Silver Halo Ring
While rings often represent the mutual commitment shared between two people, there is nothing in the official rules that state it can't embody a one-sided adoration with a video game character. For those carrying a torch for a certain Spartan supersoldier, there could not be a more perfect way to reflect that undying devotion than with a Halo-themed finger adornment. This stunning ring, crafted from sterling silver by the talented artists over at the Weta Workshop, comes in the shape of Master Chief's iconic Mark VI Spartan helmet. Displaying that passion comes at a decent price though as this band will set you back $275.55 NZD ($178 USD) but love knows no bounds, right? Certainly not any financial ones. Feel free to continue reveling in all its glory after the jump. But wait, there's more! Weta Workshop offers a number of fantastic Halo replicas, including CQB, EVA, and Mk VI helmets, as well as busts of Cortana, Master Chief, and the Flood. Read more Here.
You stay frosty Halopedia!
Comments
Please keep your comments civil, short, to the point, and good. Thank you!