News:Archive/20 August 2009/The Orbital Drop Shock Troopers invade America
From Halopedia, the Halo wiki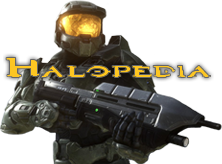 HALOPEDIA NEWS
The Orbital Drop Shock Troopers invade America

Story by CommanderTony
August 20th, 2009
Intro
An attention whore-ish title that's (kinda) true.
News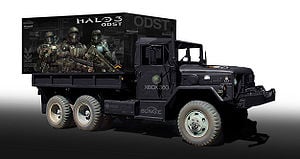 "Can't wait for "Halo 3: ODST" to drop on September 22? Then suit up and get set for the "Halo 3: ODST" GameStop Tour! Microsoft and Bungie have created a massive, transforming "Halo 3: ODST" Transport Vehicle to take the game directly to players at GameStop locations across the United States, providing a hands-on sneak peak at one of this year's most anticipated games. The action begins this Saturday, Aug. 22, in Redmond, Washington when Xbox LIVE's Major Nelson and Bungie kick off the nationwide "Halo 3: ODST" GameStop Tour outside the Redmond Town Center GameStop (17128 Redmond Way, Redmond, WA). The "Halo 3: ODST" Transport Vehicle deploys at noon and will remain active until 8:00 p.m."
— Xbox 360 Press
Dropping into 22 locations all around the Continental United States (sorry Alaska and Hawaii) over a span of a month, the Halo 3: ODST tour will give the citizens of the Halo Nation their first chances to play the game for the first time, on the brand new Firefight mode.
To see if there's a tour stop near your place and when you can play it, check out this link here!.
You stay frosty Halopedia!
Comments
Please keep your comments civil, short (five-word minimum), to the point, and good. Thank you!