Medal Chest
From Halopedia, the Halo wiki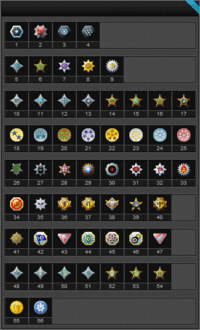 The Medal Chest serves as the record of all the medals a player has earned in various Halo games. Records explicitly referred to as a medal chest are found on Bungie.net and in-game in Halo: The Master Chief Collection. Medal records are found on Halo Waypoint but are not referred to as Medal Chests.
Bungie.net
[
edit
]
On Bungie.net, players can find Medal Chests for Halo 3, Halo 3: ODST, and Halo: Reach. For Halo 3 and ODST, medal totals are separated into ranked and unranked totals. For Halo: Reach medals are separately compiled for Invasion, Arena, Competitive, Campaign, Firefight and Custom games.
With the transfer of record-keeping from Bungie.net to Halo Waypoint on March 31, 2012 these medal chests are no longer updated.[1]
Halo: The Master Chief Collection

[

edit

]
In Halo: The Master Chief Collection the Medal Chest is found in-game in the Career menu. Medals are totalled for Matchmaking, Custom Games, Campaign and Playlists. Matchmaking and custom games feature 242 medals; campaign and playlists feature 31. The Medal Chest also provides information for which category each medal falls under (i.e. Spree, Style, Legendary etc.), as well as which of the five multiplayer modes in the Collection award the medal.
Sources
[
edit
]