Achievements (Halo: Spartan Assault)
From Halopedia, the Halo wiki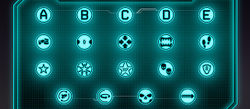 There are a total of 32 different achievements in Halo: Spartan Assault which are found on five different platforms. No single version includes every achievement.
The game was originally released for Windows 8 and Windows Phone 8 devices on July 18, 2013 with a total 20 achievements worth 200 Gamerscore

on each. Five additional achievements worth 50 Gamerscore were added with a Title Update in August 29, 2013, bringing the total to 25 achievements worth 250 Gamerscore.[1] Two of the achievements, Tour of Duty and A for Effort, are found only on Windows.
The Xbox One version of the game was released December 23, 2013, with 30 achievements worth 1000 Gamerscore. Seven new achievements are featured, two of which are only on Xbox One.[2] Gamerscore values are double those found on the other platforms.
The Xbox 360 version was released January 31, 2014, with 28 achievements worth 400 Gamerscore.[3] It features all the same achievements that are found on the Xbox One version, save for the two exclusives, The Enemy of my Friend and Immune.
Spartan Assault was released on Steam on April 4, 2014, and on iPhone and iPad on April 16, 2015. The Steam and iPhone/iPad versions of the game feature the same achievements as the Windows version, however they utilize different profiles, and therefore do not award Gamerscore.
Players with the proper hardware can purchase Spartan Assault for each of the four Microsoft platforms, and potentially unlock most of the achievements as many as 4 times. Playing on all four platforms will allow the player to unlock a total of 108 achievements worth 1900 Gamerscore.
Icon
Name
Description
Gamerscore for Windows
Gamerscore for Xbox 360
Gamerscore for Xbox One
Campaign
Overrun
Complete Operation A
10
10
20
Switched On
Complete Operation B
10
10
20
Switched Off
Complete Operation C
10
10
20
Evacuated
Complete Operation D
10
10
20
Terminated
Complete Operation E
10
10
20
Level-specific
Escort Service
Keep all Wolverines intact in Operation A, Mission 3
5
5
10
Nowhere to Hide
Prevent all Jackals from regenerating their shield in Operation B, Mission 3
10
10
20
Never Knew What Hit Them
Kill a convoy target with every stationary gun in Operation C, Mission 3
10
10
20
Brute Force
Finish the objectives using only the Brute Shot, melee and grenades in Operation D, Mission 1
10
10
20
Foot Soldier
Finish the objective without using any vehicles/turrets in Operation E, Mission 4
10
10
20
Stars
Recruit
Earn a star of any type in an operation mission
5
5
10
Prodigy
Earn your first Gold star in an operation mission
5
5
10
117
Earn all Gold stars in all operation missions
20
30
60
Distinguished Service
Earn all medals in the game at least once
15
15
30
Challenges
Weapon of Choice
Score a kill with every handheld weapon (excluding Rocket Launcher and Spartan Laser)
5
5
10
Powered by MJOLNIR
Use every ability at least once (excluding Overshield and Seeker Drone)
10
10
20
Skull Combo
Complete any mission with the maximum number of Skulls active
10
10
20
Vidmaster Challenge
Complete Operation E, Mission 1 with the Hollow and Black Eye Skulls active
15
15
30
Extra Credit
Complete 75 mission specific challenges/Complete all campaign mission specific Assault Ops
10
15
30
Pension Plan
Earn 25000 Spartan Points throughout your career
10
10
20
Title Update
Archeology
Complete Operation F
10
10
20
Silvertip
Destroy all Mega Turrets with the Grizzly tank in Operation F, Mission 2
10
10
20
Tour of Duty
Earn all Gold stars in Operation F
10
N/A
N/A
Vidmaster Challenge 2.0
Complete Operation F, Mission 4 with the Blind and Thunderstorm Skulls active
15
15
30
A for Effort
Complete all Operation F mission challenges
5
N/A
N/A
Co-op
Flooded
Complete all co-op missions
N/A
30
60
Overachiever
Earn all co-op medals at least once
N/A
50
100
Dynamic Duo
Earn all Gold stars in all co-op missions
N/A
30
60
Extermination
Kill 10,000 enemies in co-op
N/A
30
60
The Company of Strangers
Complete a co-op mission with at least 5 different players
N/A
10
20
Xbox One Exclusive
The Enemy of my Friend
Get a higher individual score than your partner on all co-op missions
N/A
N/A
100
Immune
Finish a co-op mission without becoming infected
N/A
N/A
100
Unlike achievements in every other Halo game, Spartan Assault achievements appear on multiple platforms. This results in a duplication of achievements; players can unlock the achievements once on a Windows 8 device as well as on a Windows Phone 8 device, the Xbox One and the Xbox 360. These achievements also appear multiple times on Halo Waypoint. Although this can allow players to boost their gamerscore by unlocking the same achievements up to four times, it also creates the unfortunate circumstance wherein players looking to unlock every single Halo achievement must purchase and play Spartan Assault on all four platforms.
In-game statistics are integrated across the four Microsoft platforms. Although achievements must be unlocked by playing the game on each platform individually, some achievements (i.e. 117, Extra Credit, Distinguished Service) are unlocked via accomplishments which are recorded across platforms, and therefore unlocking the achievement on one platform can contribute to or even complete the achievement on the others. Steam does not feature this integration.[4]
With only 30 achievements worth a full 1000 gamerscore, the Xbox One version of Spartan Assault has the highest average points-per-achievement of any Halo game (33.3 points per achievement). Conversely, with 25 achievements worth only 250 gamerscore, the Windows versions of Spartan Assault tie Halo: The Master Chief Collection for the lowest points average of any title (only 10 points each).
Sources
[
edit
]