.ass
From Halopedia, the Halo wiki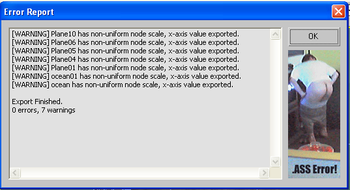 .ass or amalgam scene specification is a source file type. An intermediary format file produced by the 3ds Max exporter. When run through Halo 2 Tool, .ass files generate .scenario and .scenario_structure_bsp files, which can then be edited by other tools.[1] The filetype is used within Bungie's Halo games, and was notably the source a controversy in 2007, known as the ".ass error".
.ass error
[
edit
]
The ".ass error" was a glitch in the Halo 2 development software caused by an artist attempting to import non-uniformly scaled map geometry. The error message came attached with an image of one of Bungie's Lead Engineers; Charlie "Chucky" Gough, with an uncovered backside.[2] The photo was taken during a visit to Bungie's office by Microsoft CEO Steve Ballmer; during the visit, Gough "mooned" an unaware Ballmer with a camera set up. The image became an in-joke within Bungie, with photos printed and posted around the Microsoft campus with only a small few knowing the origin of the joke. When the .ass error became an issue, the image was attached to the error message for the issue, and later uncovered by Microsoft's GeOps team during the production of Halo 2 for Windows Vista.[3][4]
As a result of this issue, the ESRB threatened to fine Microsoft due to the presence of nudity in the game, forcing Microsoft to delay the game's release so that the game's ESRB information could be updated to include partial nudity alongside the existing warnings of violence, gore etc. This delay cost the company up to as much as $500,000 and resulted in some Microsoft employees being fired - though no one at Bungie was fired. The incident subsequently made Bungie a lot more serious internally.[3][4]
Halo 2 for Windows Vista shipped with the error, though the image was removed in the game's first patch.
Sources
[
edit
]