Terminal (Halo 2: Anniversary)/Three
From Halopedia, the Halo wiki
ONI File: Particular Justice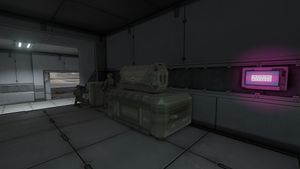 Campaign level: Metropolis
The terminal is a computer screen located near the stairs at ground floor of the Marine command post, after being greeted by Perez. The console's screen flashes "INCOMING MESSAGE" in red.
---
| | | |
| --- | --- | --- |
| " | Leveling the playing field. | " |
SUBMIT SECURITY CREDENTIALS:
SPARTAN-117
IDENTITY CONFIRMED
ACCESS GRANTED
TARGET PROFILE:
THEL 'VADAMEE, SUPREME COMMANDER
COVENANT FLEET OF PARTICULAR JUSTICE
TARGET VALUE: ALPHA
REPORT COMPILED BY LT. COMMANDER JAMESON LOCKE
Cut to the stormy atmosphere of Reach as Locke narrates. The camera pans down towards an assault carrier glassing the planet. Cut to several Covenant ships glassing a city on Reach.
Locke: "'Vadamee's most recent and damaging blow to the UNSC was the Fall of Reach. ONI has still not been able to fully determine how 'Vadamee located the planet. And once again, he caught us completely by surprise when his forces arrived in orbit and on the ground."
Cut to an overview of several planets with a figure beside each planet showing the world's population. Each planet has been glassed by Thel 'Vadamee. The camera pans past Estuary, Mesa, Greydowns, Kroedis II, Alluvion, and Bounty as each world's population decreases.
Locke: "'Vadamee is responsible for over one billion total casualties and the loss of at least seven human planets. His forces have defeated all UNSC counter-attacks at the cost of one hundred-twenty-three fleet vessels and over twenty-three thousand personnel."
The camera pans to several destroyed UNSC cruisers and then to the helmet of a Marine with several dead Marines floating in space nearby. The camera pans backwards to the first planet displayed—Reach—as its population drops.
Locke: "And now with Reach lost, ONI and UNSC strategic AI report a zero percent confidence that the Navy can stop 'Vadamee through traditional means."
The scene pans to a UNSC and Covenant fleet engagement depicted in a hologram. Then the scene switches to a group of UNSC Pelicans becoming surrounded by Phantoms over a planet's mountain range. The camera pans to an overhead view, showing the Pelicans are vastly outnumbered. The Phantoms begin to fire at the Pelicans and a warning appears.
EXPECTED UNSC SURVIVAL RATE: 0%
Locke: "In the opinion of this investigator, 'Vadamee is the most dangerous Covenant military asset on the field. It's common knowledge that the Covenant have a significant technological advantage over the UNSC, but are sometimes inflexible in their tactics. This is not the case for 'Vadamee. We cannot predict what he'll do next. But, given time, we fear that he will dismantle all remaining UNSC strongholds."
Cut to a hologram of Thel 'Vadamee.
Locke: "This agent's recommendation: immediate termination. If humanity wants to survive this war, we cannot do it with 'Vadamee on the field."