Michael Wu
From Halopedia, the Halo wiki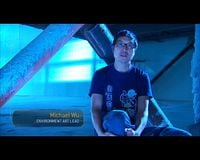 Michael Wu (Born in 1975) is an artist, animator and designer. He is also a senior employee at Bungie Studios.
He joined Bungie in 2000, and helped work on the final stages of development for the game Oni. He then worked as an artist on the games Halo: Combat Evolved, Halo 2, and was the campaign environment lead for Halo 3.[1] In between these jobs, he has also animated for several high-profile movies, including Cars in 2006, and Mulan in 1998.
He also placed this quote in his Bungie profile for potential future video game developers:
Michael studied structural engineering and architecture and encourages all future game developers to pursue broad and challenging experiences during their education.
Gameography
[
edit
]
Iron Phoenix (2005), SEGA of America, Inc.
Halo 2 (2004), Microsoft Game Studios
MVP Baseball 2003 (2003), Electronic Arts Inc.
Cross Country USA 2 (2002), Ingenuity Works, Inc.
Halo: Combat Evolved (2001), Microsoft Game Studios
Oni (2001), Take-Two Interactive Software, Inc.
Cadillacs and Dinosaurs: The Second Cataclysm (1995), BMG Interactive Entertainment
Desert Demolition Starring Road Runner and Wile E. Coyote (1995), SEGA Corporation
Ecco: The Tides of Time (1994), SEGA Corporation
See also
[
edit
]
Sources
[
edit
]