Fight the Flood
From Halopedia, the Halo wiki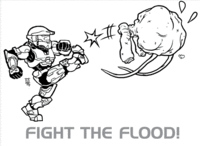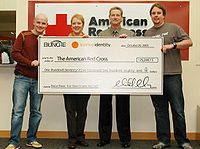 Fight the Flood was a charity campaign run by Bungie to raise money to donate to the Red Cross during the aftermath of Hurricane Katrina. Bungie made a shirt depicting Master Chief sharply kicking a Flood Carrier form, with the phrase "Fight the Flood!" beneath it. For every shirt sold, they would keep only the money used to produce the shirt, and donate the rest of the money to the Red Cross.
At the same time, HBO members contributed objects highly valued within the Halo community to auction off, the proceeds going entirely to the Red Cross. Bungie themselves contributed artful screenshots, only produceable by them, for the auction. All in all, Bungie was able to give a check to the Red Cross worth over $175,000.
The campaign is referenced in one of the terminals in the Tribute Room in Halo: Reach.
External links
[
edit
]