Altar
From Halopedia, the Halo wiki
"WE'VE GOT A NEW CONTACT, UNKNOWN CLASSIFICATION!"

This article may contain information based upon upcoming, unreleased, or recently-released content from Halo: Spartan Strike, and may not be fully complete. Additionally, the information may be subject to change if it is based on pre-release material. Please update it as soon as any relevant and accurate material is available.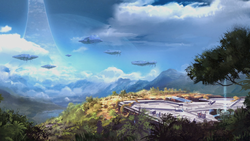 "The Altar. If the Covenant fire it up, they'll enable a massive Promethean invasion of Gamma Halo."
The Altar is a structure on Forerunner Halo Installation 03. In 2557, Jul 'Mdama's reformed Covenant and his Promethean allies attacked Gamma Halo and retrieved the Conduit. They brought the device to the Altar, where they intended to insert the Conduit into a machine located in the center of the complex in order to open slipspace portals for Prometheans to invade and give the Covenant control of the installation.[2]
This article is a stub. You can help Halopedia by expanding it.
Gallery
[
edit
]
List of appearances
[
edit
]
Sources
[
edit
]