News:Archive/21 July 2009/Our decade old baby
From Halopedia, the Halo wiki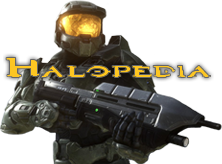 HALOPEDIA NEWS
Our decade old baby!

Story by CommanderTony
July 21st, 2009
Intro
Halo turns ten today, and unfortunately, all we bought her for a gift was this lousy article XD.
News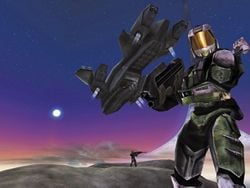 You may think that the release of Halo: Combat Evolved and it's prequel, The Fall of Reach, in Fall 2001 will be noted as the true birth of the Halo franchise. Heh, but you are so...so wrong.
Ten years ago to the day, a game was set in stone for the next decade and beyond. Apple's CEO, Steve Jobs, hailed this game as the flagship title to revive gaming on the Mac platform with their OpenGL software. Of course, we all know that Apple would fail at this due to the subsequent purchase of Bungie Studios by the Seattle software conglomerate, Microsoft in 2000. This game was to be the flagship of the Xbox from its birth, moving console sales by the millions. But enough about the Xbox....
"So our game's called Halo..."
— Jason Jones in 1999
At the 1999 Macworld in New York City, while Jobs was blabbering on about Mac stuff with floppy discs and other cool technology like that; Jason Jones, the co-founder of Bungie, was getting ready to shock and awe the audience with the greatest spectacle of art the world had ever seen. And while most of us had never heard of the game at that point, we sure as hell would...two years later.
To read more about the birth of Halo and early screenshots of the game, check out this link at Bungie.net here.
You stay frosty Halopedia!
Comments
Please keep your comments civil, short (five-word minimum), to the point, and good. Thank you!