News:Archive/17 July 2009/Stuart Beattie shares his insights on the Halo movie
From Halopedia, the Halo wiki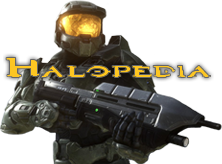 HALOPEDIA NEWS
Stuart Beattie shares his insights on the Halo movie

Story by Mcloganator
July 17th, 2009
Intro
Stuart Beattie, producer of Pirates of the Caribbean shares his ideas about a possible feature length Halo film.
News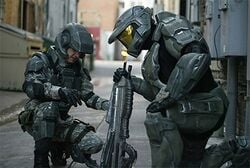 It was widely presumed that Microsoft's plan to mount a movie adaptation of its hit Halo game series died when producer Peter Jackson and director Neill Blomkamp's proposed movie failed to come together.
But that hasn't stopped Pirates of the Caribbean writer Stuart Beattie, an avid gamer, from cooking up his own spec version of a Halo movie, which he wrote during the 2007 writers' strike, based on the "Fall of Reach" storyline from Eric Nylund's Halo prequel novel. Nor has it daunted Beattie, who has been trying fervently to get his Halo movie off the ground, complete with concept art.
"I just think it's an amazing story about this child that no one cares about and who cares for no one else, who kind of ends up saving all of humanity," Beattie said in a phone interview on Thursday while he was promoting G.I. Joe: The Rise of Cobra. "So I just started calling, because I really believe a Halo movie would just be awesome, especially this Halo movie."
Beattie sent his script to Microsoft just because he wants them to make it so badly. Maybe Beattie should do more than just write the script. Microsoft and its studio partner, 20th Century Fox, don't have a director now that Blomkamp is out. For his part, Beattie is still a fledgling director: He makes his feature directorial debut with the upcoming futuristic war movie Tomorrow, When the War Began.
"It's not something I can direct right now, because it's a big $100 million-plus film," Beattie demurred. "Maybe in a few years, if things work with Tomorrow and if Tomorrow finds an audience, maybe one day, two or three movies later, I can get the reins of that and maybe direct that, because I would just love to see a Halo movie up there on screen. It's magnificent."
As a Halo fan, Beattie would be happy to see any other capable filmmaker put his script on screen. "I wouldn't want to stand in the way of it getting made, but I firmly believe that the first Halo movie needs to be the Fall of Reach story, because it sets up all the characters, the world, the Covenant, the big struggle between mankind and the aliens, all that stuff," he said. "So that's where my money is."
Audiences are still waiting to see if video games can actually become great movies. There may have been some arguably good ones, but few would say there has been a great one. Beattie believes it is just a matter of having folks who love video games making movies out of them. Just as Sam Raimi was the right man to make a Spider-Man movie because he loved the comic books, people who play Halo should be adapting the game to the screen.
"Once my generation of filmmakers start to get to that position where they allow us to make these big-budget films based on these video games, then we'll start to get some really great movies based on video games," Beattie said. "I think it's the same as books, [and] it's the same as comic books. I think not every video game should be made into a movie, just like not every book should be made into a movie. Not every comic book should, but certain ones definitely should, because they're so visual, the characters are so rich and the mythology is so vast that they should. Halo is definitely one of the shoulds."
To anyone who hasn't logged onto Xbox Live to fight multiplayer battles as Master Chief, Beattie explained his obsession with the source material. "It's massive," he said. "It's like our generation's Star Wars. The whole Halo nation that's out there, and a 100,000-year history of the Halo universe, it's just breathtaking and so much fun to play in that sandbox. I've read every book, played every game, every graphic novel. It's just a fun world to be in."
You stay frosty Halopedia!
Comments
Please keep your comments civil, short (five-word minimum), to the point, and good. Thank you!