Unlock & Load Double XP
From Halopedia, the Halo wiki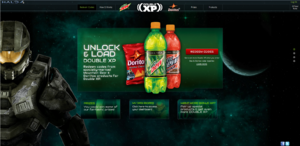 Unlock & Load Double XP, also known as DewXP or DoritosXP, was a Halo 4 promotion which allowed players to earn double XP. People could buy Mountain Dew and Doritos products marked with Halo 4 images that had a code on them. The codes could be redeemed at the promotional site, http://dewxp.com/, for a specific number of matches to earn double XP. The promotion also marked the return of Halo-themed Game Fuel.
Double XP matches can be applied to any Gamertag. There is a limit of 200 matches per Gamertag, and 750 codes per DewXP account. Matches can also be gifted to other users. Each code also gives the user one sweepstakes entry.
Products and Matches
[
edit
]
Mountain Dew
[
edit
]
20oz bottle (all flavors) - 3 matches
12 pack (original, diet, Game Fuel) - 6 matches
24 pack (original, diet) - 12 matches (Walmart only)
Doritos
[
edit
]
2.75oz - 3 matches
3.875oz - 3 matches
11.5 oz - 12 matches (Walmart only)
Entering a Mountain Dew and Doritos code at the same time - 2 matches
Free Code Request
Sweepstakes Prizes
[
edit
]
Unlock & Load Double XP is not the first DewXP promotion. The promotion was available in 2011, known as Rank Up Your Game, which earned double XP for Call of Duty: Modern Warfare 3. The promotions for each game are by similar, though Halo 4 tracks double XP by matches, whereas Modern Warfare 3 had time frames.
Sources
[
edit
]